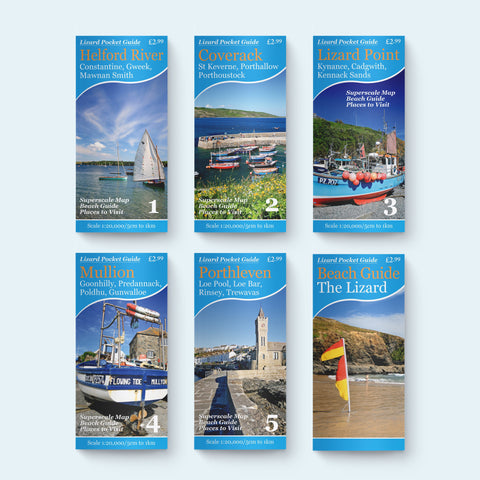 Lizard Pocket Guide Collection
Buy all 6 Lizard Pocket Guides for the price of 5

Covering the Lizard Peninsula from the Helford to Coverack, Cadgwith and Lizard Point then onto Kynance Cove, Mullion and Porthleven. These detailed maps show footpaths, cafes and have lots of tips and advice on the best walks and place to visit.
ISBN:
 978-1-904645-27-6
Edition:
various (2019)
Scale: 1: 20,000
Size: A2 (594mm x 420mm)
Great maps!
Excellent maps delivered quickly.
Useful even for locals
I have lived on the Lizard for a few years and there are various local guides available but I bought the complete set of friendly guides to plug some gaps. The maps are quite large in scale but because they are individually relatively small, they are manageable and lightweight to take with you on a day out and cope with even in quite windy weather. They are good because of all the extra details to help you find car parks and attractions as well as navigating your way there on our sometimes quite windy roads. The information on the back provides additional details to help plan your day out. So whether you want to plan a walk on the coast path and know where you can get a cup of tea, or are looking for a dog friendly beach, you can tuck one of these maps in your bag and set off with confidence.
Lizard guides
These are excellent pocket maps with enough detail for walks around a variety of terrain and places. They are very clear to follow. I hope Friendly Guides extend this range to cover more - all? - of the South West and beyond.
Lizard Pocket Guides
Very many thanks for timely delivery of the requested maps, Coverack, Mullion, Lizard and Helford River areas. I already had the Porthleven one. We often have our holidays in Porthleven starting back in 1992 and regularly visiting since then. Know the area pretty well. But the amount of detail all in great clarity in your maps are excellent. There is so much detail that we were not aware of in all of our favourite spots. We can't wait for our next visit to Porthleven and to re-visit the many places of interest to us. We had no idea so much more of interest existed in or around these favourite places. And all at a very reasonable prices to. Thanks very much again.