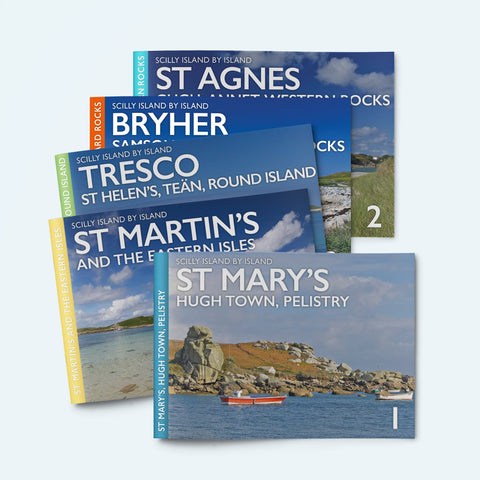 Scilly Island by Island Collection
Save £5 when you buy all 5
All 5 books of the Scilly Island by Island collection. As much souvenirs as practical guides to walking the islands. These are the most detailed books we publish. Based on our Isles of Scilly Guidebook and Isles of Scilly Map.

ISBN: 978-1-904645-67-2 (collection)
Edition: 1st (2021)
Pages: 195
Size: 210mm x 148mm x 5 books

Also available on Apple Books and Amazon Kindle
Easy read Isles of Scilly Guudez
Very easy to read - slim books. Really interesting and informative - definitely helps me plan my holiday
Great set of guides
This is a great little collection of guides in a perfect format to carry with you. Full of clear information, maps and suggestions to get the most out of a visit to these Isles. The discount for buying the set is a bonus.
Excellent efficient service
Scilly Island by Island
A first class compilation with everything you need to know about spending time in the Isles of Scilly. A real bargain and an excellent service.
Scilly Island by Island
Excellent service.
I emailed to ask about the date of the new edition for the Isles of Scilly, the response the the email was quick and I was told the date, this was later than my holiday date and I was advise to have a look at purchasing Scilly Island by Island collection.
I purchased the collection which arrived within in two days.
Everything about this company was excellent and will definitely look at there website again when looking to purchase a guide.